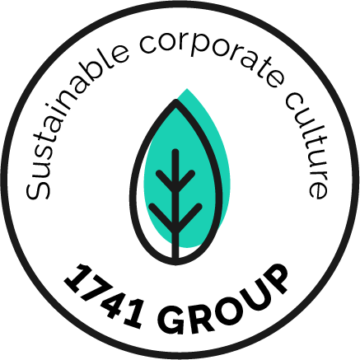 However, sustainability also means to choose carefully and to reject short-term economic success in order to ensure growth in the long term.
The stakes could not be higher, given that the environmental, social and societal future of all is at risk.
For you as our partners.
For our investors.
For all of us.
In order to have success in the long run, we have integrated sustainability into different fields:
The implementation of internal processes,
With regard to third parties, in particular with regard to the selection of our business partners, and
With regard to clients and their needs for sustainable products and services.
With flexibility and a clear focus on service, we continue to develop and grow at all levels for you!
Know-how
It is part of the 1741 group's corporate culture that we rise to the regulatory and corporate challenges ahead of us and that we strive to transform these challenges into opportunities. As regards the new EU/EEA provisions on sustainability and ESG issues, we recognise the associated challenges and any issues in terms of their implementation. At the same time, however, we regard them as an opportunity to rise to and meet these challenges together with our current and future partners. We firmly believe that sustainability can provide added value for funds and, in doing so, a hitherto undefined and partly misleading term can obtain a clear meaning. If this happens, sustainable investment will be so much more than just a marketing term.
Reporting
We are convinced that the interesting topic of sustainability will continue to undergo a dynamic development in the next few years. Currently, we are meticulously preparing for this future and are looking forward to developing solutions for the needs and wishes of our partners and their investors. These may relate either to the provision of required data for their own regulatory reporting requirements or to the provision of sustainability solutions tailored to the needs of each client. As your partner, we will always be at your service.
Proxy voting
With regard to proxy voting, our active commitment as your AIFM and/or your UCITS management company is our primary goal. Even if, compared with the large providers in the funds sector, we regard ourselves as a small and independent niche provider for the time being, the voting rights exercised by our partners and/or their investors at various companies and/or funds are in some cases extensive. In this connection, the consideration of sustainability criteria is becoming ever more important. We therefore believe that one of our most important duties is to assist you in the process of collecting information with regard to the question as to whether the portfolio companies comply with generally accepted social responsible investment (SRI) or ESG policies and whether these companies adhere to responsible business conduct.
Transparency information pursuant to the Disclosure Regulation (Regulation [EU] 2019/2088)
(1)  SFDR Disclosure Regulation
REGULATION (EU) 2019/2088 OF THE EUROPEAN PARLIAMENT AND OF THE COUNCIL of 27 November 2019 on sustainability-related disclosures in the financial services sector:
SFDR Disclosure Regulation.pdf
The Sustainable Finance Disclosure Regulation (SFDR) serves as foundation for the harmonisation, across the EU/EEA, of information to end investors on the integration of sustainability risks, on the consideration of adverse sustainability impacts and sustainable investment objectives or on the promotion of environmental or social characteristics in investment decisions (and in the advisory processes). It requires financial service providers to disclose their management and integration of sustainability risks in investment decisions on their websites and in information on financial products/funds, such as in prospectuses and in annual reports.
The Regulation has already entered into force in the European Union. It thus already has impacts on Liechtenstein funds which are sold across the EU. In Liechtenstein, the EEA incorporation process in respect of the Sustainable Finance Disclosure Regulation has not yet been completed, which is why it is not yet directly applicable (it being an EU Regulation, no transposition in Liechtenstein is required, and after its incorporation, it will be directly applicable).
(2)  Taxonomy Regulation
REGULATION (EU) 2020/852 OF THE EUROPEAN PARLIAMENT AND OF THE COUNCIL of 18 June 2020 on the establishment of a framework to facilitate sustainable investment:
Taxonomy Regulation.pdf
The Taxonomy Regulation constitutes the actual framework and, in particular, includes targets in the field of sustainability objectives. It thus serves as foundation for the significant actual challenge for market participants which is the classification of sustainable conduct and/or investment and their translation into concrete information.
(3)  Level II Draft (the actual implementing provisions)
Final report on draft Regulatory Technical Standards with regard to the SFDR Disclosure Regulation:
Final Report Transposition Provisions.pdf
The Level II Standards elaborate the provisions set forth in the SFDR Disclosure Regulation in detail. This elaboration is likely to have the most significant effect on the concrete implementation by the market participants in the future, given that the disclosure requirements and the standards for the assessment of significant adverse impacts are very specific.
No applicable national provisions such as guidelines have been enacted in Liechtenstein to date, because even the Liechtenstein FMA is waiting for further details from the EU Commission at Level II.
ESG communication with our partners
In light of the fact that the current ESG provisions concern not only us in our capacity as an AIFM and UCITS management company but, specifically, also all financial market participants who, by delegation, make investment decisions for the funds under our management, we have decided to engage in very open and cooperative communication. We want to share our ESG know-how both with our current partners and with our future partners and, for this purpose, we have drawn up and sent an initial information letter. In doing so, we want to engage in a continuous dialogue on how to deal with the new ESG provisions.